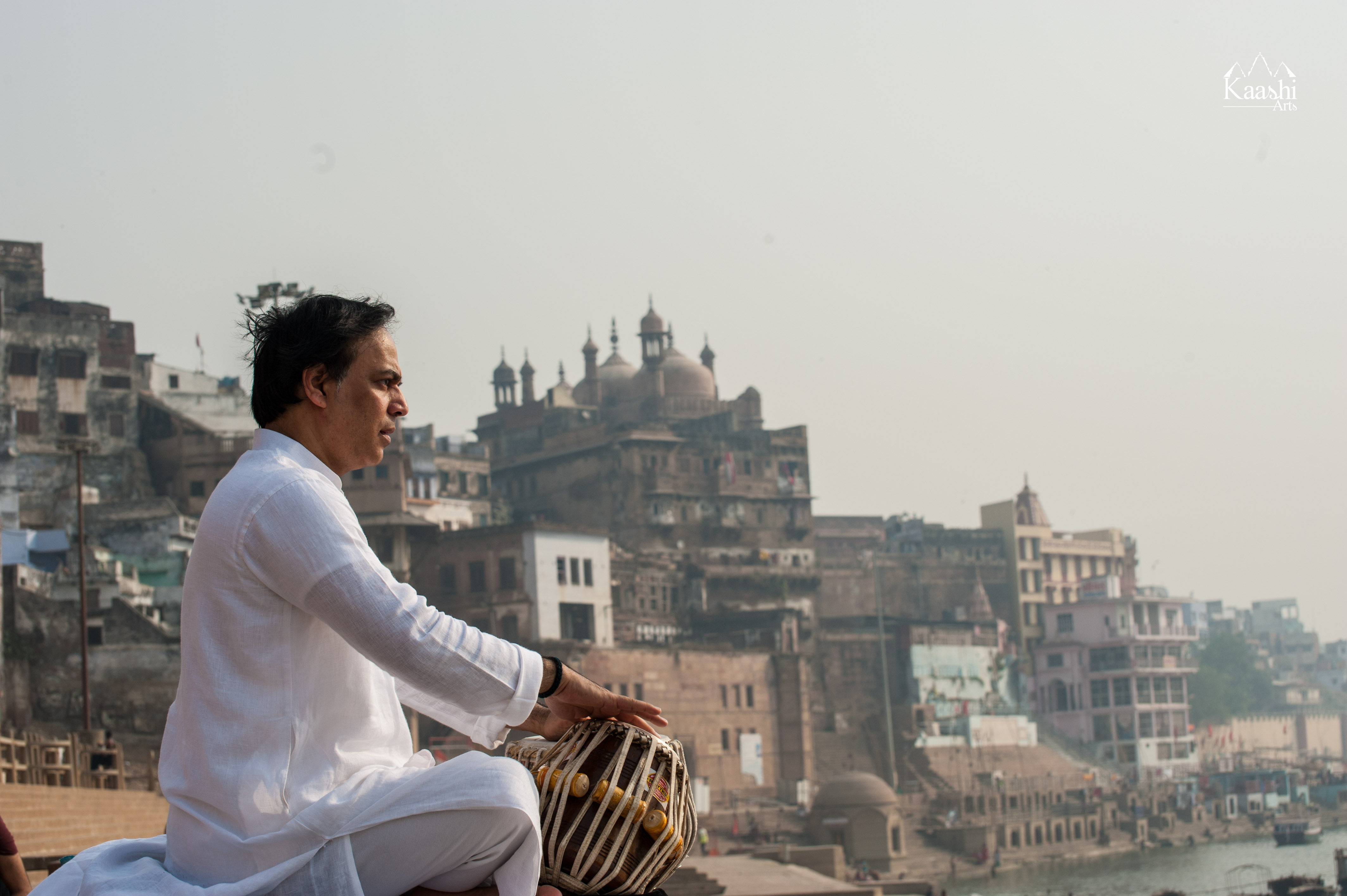 Pt. Sanju Sahai - Tabla Virtuoso of Banares Gharana
Sanju Sahai (also known as Vishnu Sahai) , is currently one of the finest and most sought after Tabla players of his generation. Belonging to the Benares Gharana (lineage) and being the 6th generation of Tabla players in the lineage, he began playing at an early age. Being a child prodigy, he gave his first Tabla solo performance at a major festival in Benares at the tender age of 9. He gained his Bachelor of Music at the age of 13 and Master of Music at 18 years of age.

A phenomenal and outstanding Tabla player, he is well known for mesmerising and captivating his audience with his power, virtuosity and complete spontaneity.

His meteoric rise in popularity in the field of traditional Indian Classical music has led Sanju to regularly collaborate with different genres such as Jazz, Egyptian, Flamenco, Opera, Western Classical, hip hop, folk, blues music and the world of contemporary music and dance., This makes him an imaginative and sensitive musician, having an elegant and poignant style of his own. He has and continues to collaborate with various international artists from around the globe such as: Manuela Carrasco (Flamenco dance), Michael Nyman (British composer), Patricia Rozario (opera), BBC Philharmonic, Naresh Sohal (composer), Pete Lockett (multi percussionist), Yair Dalal (oud), Jason Carter (guitarist), Matthew Barley and Anup Biswas (cellists), Don Li (clarinet), Harp Quartet, Dominique Vellard (Gregorian chant), Gilles Petit (composer and instrumentalist) and the acclaimed dancer Akram Khan.

Sanju is an international artist and performs all over the UK, India, Europe, Middle East, USA, Australasia and the far East. He has accompanied many of India's legendary musicians and dancers such as: Pandit Hari Prasad Chaurasia (bansuri), Pandit Shiv Kumar Sharma and Pandit Bhajan Sapori (santoor), Ustad Vilayat Khan Saheb, Ustaad Imrat Khan Saheb, Ustaad Shahid Parvez, Pandit Kartik Kumar and Pandit Manilal Nag (sitar), Pandit Vishwa Mohan Bhatt (mohan veena), Pandit Birju Maharaj, Natraj Gopi Krishna and Smt Sitara Devi (Kathak), Ustaad Aasheesh Khan and Ustaad Amjad Ali Khan (sarod), Pandit Jasraj, Smt Girija Devi, Pandits Rajan and Sajan Misra, Pandit Ajoy Chakraborty and Smt Veena Sahasrabuddhe (vocal) Ustaad Sultan Khan and Pandit Ramesh Misra (sarangi), Kala Ramnath (violin) and maestro Umyalpuram Shivraman (mridangam) to name but a few.
Pt. Sanju Sahai will be accompanied on Sarod by Vittoria Pagani
Date / Time:Sunday 16th December 2018 11.00 AM - 12.00 PM
Veneu: Museum Rietberg, Park-Villa Rieter, Seestrasse 110, Zurich
Entry: CHF 30 / 25 (Includes entry to the museum on 16.12.2018)